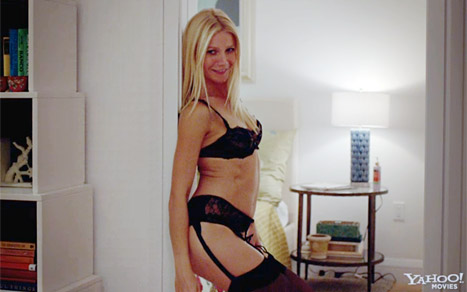 After Jennifer Aniston doing the same in We're The Millers, Gwyneth Paltrow follows. She strips down to racy black lingerie, revealing a tight and well-toned body, in order to seduce a recovering sex addict in her latest movie's trailer that was released today.
In the scene, the 40 year old beauty, who has starred in The Iron Man movies as Pepper Potts, positions herself against a bedroom door in nothing else but a black bra, and knickers, with suspenders and stockings in an attempt to tempt her boyfriend Adam (Mark Buffalo) to bed. The movie, Thanks for Sharing, which premiers in September is a comedy about sex addicts. She proceeds to rub her body along the door frame while she asks Mark: "Hey baby, you wanna dance?" I must admit she looks absolutely stunning in this scene. All the hard work with exercise and low carb diet has definitely paid off.
Thanks for Sharing has been set in New York and it also stars Tim Robbins, Joely Richardson, Carol Kane as well as USA pop star pink in her first major role in a live action movie. Pink acts as a member of the 12 step recovery programme for sex addicts-as the only female. Gwyneth Paltrow is also enjoying her role in the movie. She said, "It's a very funny movie about recovering sex addicts. It's a great script." Apparently, she is also enjoying learning so much about sex addiction. She told reporters; "it is a real pathology. It was interesting to learn about it, see what the behaviour is and what causes it, and how people are sober. It was very interesting. I learnt a lot."
The movie is slated for release on September 13th, definitely a date worth remembering, judging from the snippets of Gwyneth Paltrow we have seen so far!