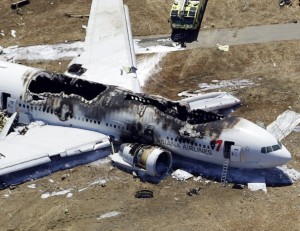 Last Saturday, an Asiana Airlines plane crashed killing two people and hurting 168 at San Francisco's International Airport. The Boeing 777 had originated in Shanghai and stopped in Seoul as it made it's final stretch to San Francisco carrying 307 people, including 16 crew members.
The authorities have yet to determine what caused the crash. It appears as if the airplane touched down tail first and did not have enough room on the run way. The severed tail of the plane was found several hundred feet from the body of the plane.
"It was all over in ten seconds," said Vedpa Singh, one of the more lucky passengers, whom walked away with only a fractured collar bone. It was a frantic scene when the plane touched down, as all 305 surviving passengers and crew scurried from the plane right before it was engulfed in flames. Officials reports 123 escaped without injury and 181 were immediately hospitalized and treated for their injuries. Of the 181 injured, 49 are in serious condition. Five, including a young child, are in critical condition and are being closely monitored for improvement.
The two people who died in this tragedy were found just outside of the highly damaged jet liner. These people were found on the run way. Both were young girls, about age 16. The students were identified as Wang Linjia and Ye Mengyuan. Though it took time, all other passengers were accounted for.
Though authorities do not intend to undermine the severity of the situation, the general consensus is that this accident could have been much worse. Some authorities even went as far as to say they were surprised to see this many survivors in a crash of this serious of a nature. It is impressive that a majority of the passengers were not injured and that those that were, were released from the hospital that night.