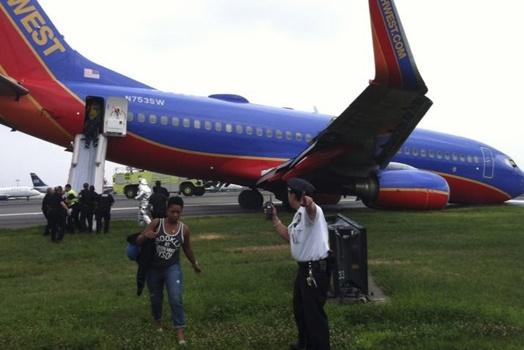 A Southwest Airlines Boeing 737-700 jetliner carrying 150 people had a
crash landing on Monday night as its landing gear under the nose collapsed. Southwest Airlines flight 345 was arriving in New York City, LaGuardia from Nashville, Tennessee at 5.40 pm on Monday. The aircraft reported that there were some problems with the landing gear just before it was about to land and the plane had to slide on the tarmac without its nose gear.
The plane was carrying 150 people out of which 144 were passengers and six crew members. 16 people in the LaGuardia crash landing are reported to suffer from minor injuries and have been taken care of by local res-ponders. Six injured passengers were taken to a hospital and ten were treated on spot by paramedics.
Emergency vehicles were rushed to the scene to carry out the rescue operation. The passengers had to wait for 45 minutes in the plane before they could be taken out to a safer place.
All the passengers were safely evacuated from the airplane with an hour of the mishap. The passengers had to slide down through inflatable ramps and emergency chutes extending from the doors.
Take offs and landings were temporary stopped at the New York Airport for an hour after the LaGuardia crash landing which delayed a lot of flights that day. Federal Aviation Administration
An eye witness of the LaGuardia crash landing said that the landing gear was looking quite weird and he saw bright sparks emerging from under the nose, surprisingly the front wheels did not come out on time and the plane had to slide on the surface without wheels. A rescued passenger said that it was a nightmare to have the landing gear collapse but was grateful that no one died or suffered major injuries.
Such incidence of mechanical failure was also seen just two weeks ago in a flight of Asiana airways while it was landing in San Francisco.