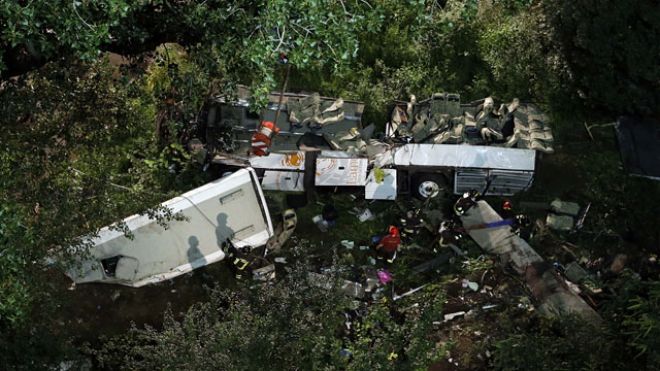 Near Monteforte Irpino in Irpinia, about 60 kms from Naples, a tour bus lost control and plunged deep down a gorge, leaving 38 dead.Before the bus fell down the ravine, it plowed through the traffic hitting several cars, and brought down 10 meters of the wall of the bridge as well.
Looking at the accident site which is now facing extreme slow traffic, no one could that the horrific accident that claimed so many lives was just a freak. Unable to reach any reason for this accident, the holiday makers who had died in the accident and who were still trapped in he wreckage of the bus , had to be pulled out .All night long, the rescue workers sawed through thick metal sheets to retrieve the bodies from the mangled and twisted vehicle which just a few hours back was taking home the holiday makers.
The loss of control of the vehicle which has been seen as the major cause for the accident however still remains a mystery,as authorities struggle to piece together any evidence to indicate the cause of this disaster. An autopsy of the driver's body too has been ordered. Many onlookers who had observed the bus said that it was moving at a 'normal ' speed and had suddenly begun veering off the road and while doing so hit many cars lined up across the bridge.
The tragedy has hit a group pf holiday makers mainly from small towns around the Naples who had spent the weekend at the shrine of Padre Pio, a well known mystic monk venerated by the Catholics.The group of tourists is supposed to have spent the weekend at the spa in Naples.
The local school became the makeshift morgue for the identification of bodies that were taken out of the mangled remains if the bus. While 37 bodies were found in the bus or under it, one passenger lost his life in the hospital. Of the ten survivors, five are children. The details of the cars that also faced part of the brunt of the accident, too saw superficial damage, though one is not sure about their occupants.
The bus has been pulled out of the ravine and towed up the bridge and shall now be examined carefully to reach a conclusion about the technical reason for the accident, if there was one.