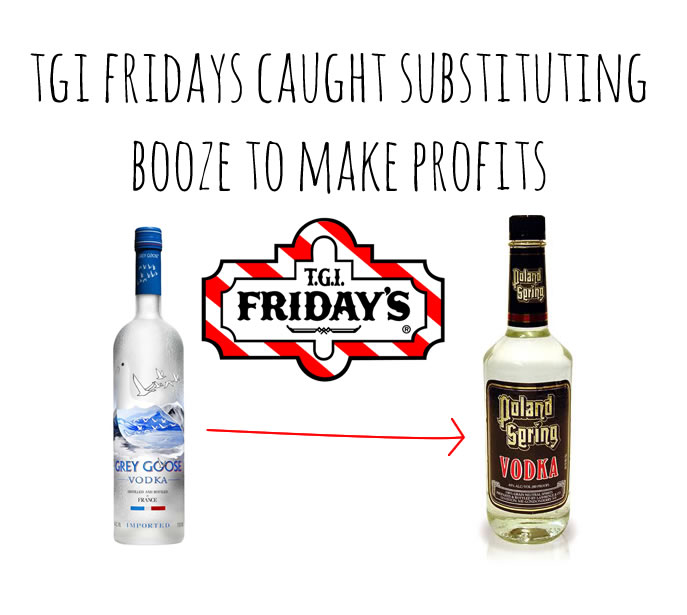 The state of New Jersey investigated thirteen TGI Friday's restaurants under a special state operation dubbed, 'Operation Swill.' The Briad Group, based in Livingston, New Jersey owns and operates all of these restaurants. The investigation revealed that all thirteen TGI Friday's restaurants were switching booze but the Attorney General's office declined to charge them all. Instead, only eight of the thirteen restaurants will face charges while the rest were still under investigation.
Subsequently, a fine of $400 000 has been imposed on the eight TGI Friday's for switching top-notch liquor with cheap booze and selling it to their customers. The franchise chain is set to cover the costs of the investigation into its business. This cost amounts to $100,000. The fine on TGI Friday's in New Jersey therefore comes to a total of $500,000.
This operation has brought quality control and ethical practices in bars under scrutiny. Many consumers believed that they were consuming a certain quality brand while in fact they are consuming cheap liquor. These consumers actually paid for quality booze, which means that the restaurants pocketed the difference. This increased their profits but duped consumers.
The launch of Operation Swill came after consumers made numerous complaints of suspicious servings of drinks including possible mislabeling. The investigation targeted sixty-three establishments. Operation Swill uncovered similar operations in sixteen other restaurants in New Jersey. This means that twenty-nine restaurants were culpable.
The TGI Friday's restaurants cited for booze switching are the ones located in East Windsor, Piscataway, West Orange, Marlboro, Old Bridge, Linden, Hazlet and Freehold. They have seven days to turn over their records to state authorities. These records will help the state to determine by the level at which the restaurants overcharged their customers and which employees oversaw the switching. TGI Friday's in NJ has also agreed to hire a state monitor for a year one period. This state monitor will ensure that TGI Friday's in New Jersey comply with all the laid down liquor laws.