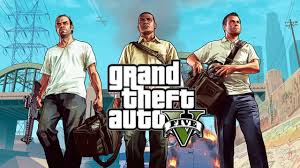 Grand Theft Auto V fans in the UK were pleasantly surprised to find that they were shipped GTA V on Saturday. Amazon has broken the embargo which was set by the publisher of the game when they delivered the game before it was set to ship out.
The BBC posted that social media was being flooded by customers who pre-ordered GTA V and got their game early. If you don't already know, Grand Theft Auto V is a new open world, action-adventure game which is going on sale officially on September 17th. The BBC also added that Rockstar North, the developers of the game, have started an investigation in to the embargo breach.
Rockstar said in a statement to GamesIndustry that they are currently investigating "how and why" the early sales occurred in the first place.
Initially Rockstar Games and Amazon both did not comment when they received a request from CBS News for any word on the occurrence.
There's a huge amount of hype surrounding the Grand Theft Auto V Release. It's the fifth new game in the series. The game boasts a massive interactive and open world which is packed to the brim with the classic GTA features such as criminals, cars and a relentless but hilarious disregard of the law. Whilst you can play about with this old school, sinister game play you can also go golfing and even scuba diving.
Grand Theft Auto 4, the game before this release sold over 25 million copies. According to Take-Two, the game's distributor, the entire franchise has sold a huge 114 million copies since its initial release.
The original GTA was release for the Sony PlayStation and PC back in 1997. Little did the games' developers know, the game would evolve in to what is now not only one of the most controversial games of all time, but one of the most iconic and exciting games. GTA V will release on PS3 and Xbox 360 only, and it has an M rating from ESRB.