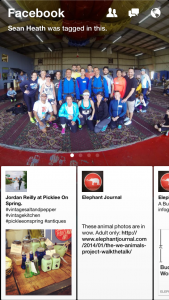 Today Facebook released a new app called "Paper".  I already posted something quick explaining how it was confusing to even find the download, unless you go to the featured apps in the app store.  After finding the Paper App, they ask you to select interests.  Like, tech, well lived, etc…. I chose a few of these and noticed how the app works.  Basically it's a mix of your Facebook feed and news articles related to your interests.  It seems like it's just another way for Facebook to integrate ads or partner with news publishers.  You can post just like on Facebook, but the layout is a lot different.
When you swipe up on a story below the feed, it displays it full screen.  When you swipe up on the article below it seems to open an external website within the Paper app.
All of this seems to be a little strange to me.  What do you think?  Will this app catch on?