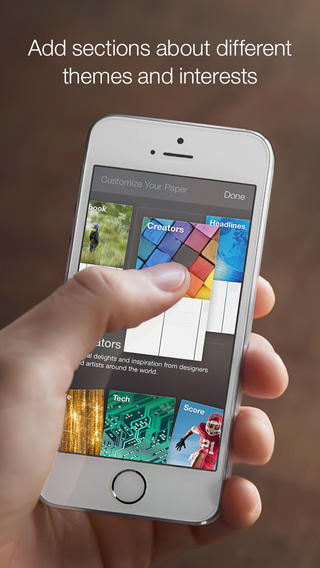 Today Facebook launched a new app, it's called "Paper – stories from Facebook".  Here's Facebook's description of the new app:
Explore and share stories from friends—and the world—in immersive designs and fullscreen, distraction-free layouts. Paper includes your Facebook News Feed and sections about your favorite topics.

Browse stories from your Facebook News Feed in beautiful new layouts.

· Customize your Paper with sections about your favorite themes and interests.
· Unfold beautifully designed article covers for news and stories from trusted sources.
· Tilt the screen to explore vivid high-resolution photos and see details up close.
· Watch fullscreen videos that come to life and fill the screen.
· Use simple, natural movements to thumb through Paper uninterrupted.
· Craft your own stories and see exactly what your posts will look like before you share them.
I just downloaded it.  First, I had a hard time trying to find the app to download. When you search "Paper", it doesn't show up anywhere in the app store.  Instead I had to go to the featured app section to find it.
After downloading it had a quick intro video and tutorial.  I had a hard time understanding why they made this type of app because after browsing through it, it seems similar to the Facebook app, just with a new twist and news added to it.  Am I missing something here or is it just me?  Did they make this app just to create more news type advertisements?