Lets just say this passenger didn't leave the nicest comment to the pilot.  The reason?  The passenger didn't like the fact that the pilot was a female.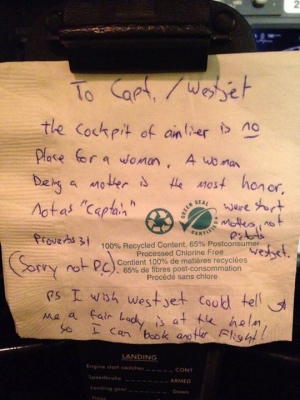 "To Capt. / WestJet," the note, written on the back of a napkin reads, "The cockpit of airlier [sic] is no place for a woman. A woman being a mother is the most honor not as "captain" Proverbs 31 (Sorry not P.C.) P.S. I wish WestJet could tell me a fair lady is at the helm so I can book another flight! Were [sic] short mothers not pilots Westjet.
As you can see the passenger was extremely sexist and hurtful to the pilot.  After all the years she has been a pilot mainly received complements.  Here's what she had to say on her Twitter account:
"I have heard many comments from people throughout my 17 year career as a pilot," Steacy wrote. "Most of them positive. Your note is, without a doubt, the funniest … You were more than welcome to deplane when you heard I was a "fair lady." … We all, us humans, have the same rights in this great free country of ours. Now, back to my most important role, being a mother."
She's had a lot of backers on Twitter and Facebook and many are putting the man who wrote the note in his place.  I wonder if they will find out who wrote it?  Challenge for Reddit?