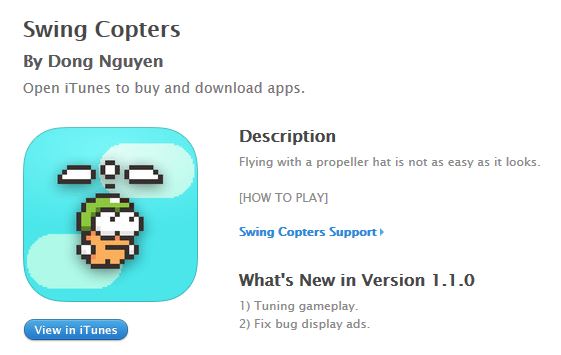 Naturally the creator of the highly successful and incredibly addicting game, Flappy Birds, has surprised critics and players with his latest creation, Swing Copters, a game he has just released on IOS and android devices.
Vietnamese developer, Dong Nguyen, shocked fans earlier this year when he publicly announced his decision to make Flappy Birds unavailable despite its popularity; citing an aversion to the game's addictive nature. Whether that was a marketing ploy or not, it certainly branded Nguyen as a notable name in app development, skyrocketing him to fame. His name being attached to Swing Copters alone could explain its sudden rise to the 12th most popular game in the App Store after having been released only earlier that day. While that theory is likely, the game is also getting praise from critics and players as fun, addictive and visually reminiscent of its predecessor, Flappy Birds.
Like Flappy Birds, Swing Copters follows the same basic premise of getting to point A to point B without dying. The seemingly simple task of maneuvering a flying pixelated character about your mobile screen, avoiding gates with swinging hammers, seems easy enough. However, much like Flappy Birds, these simple challenges don't seem daunting at first, but quickly prove to be incredibly difficult and frustrating. In fact, many players have been reporting that Swing Copters is far more challenging than Flappy Birds. With that in mind, people have been wondering if Swing Copters will inherit the same success Flappy Birds has. It looks as if it might be on track to do so, but if it should, will Nguyen become bestow the same ill-fate on Swing Copters?
Again, the game is available on ios and android devices and can be downloaded free from the app store. You have the option of paying a one-time fee of $0.99 for an ad-free version.