Famous WWE superstar Nikki Bella announced her pregnancy. The retired WWE wrestler is pregnant and she certainly hopes that everything will go as planned. Anyhow, the fact that she's having a baby in her 36s is actually quite brave and ambitious.
However, that's not all! Her twin sister Brie Bella is also pregnant and the difference is only weak and a half. This all leaves us with the question, did they plan this to happen? Also, are there any twin mind connections that resulted in such thing?
Simply speaking, they are both saying the same thing. They did not plan this to happen as they didn't even talk about it in the past. Namely, they both coincidentally became pregnant almost on the same day.
Nikki Bella – Twin Magic Superstar
As we all know, both Nikki and Brie Bella are famous rock stars when it comes to WWE. They both showed such great skills and truly a masterful techniques when it comes to wrestling. And, they are now both pregnant.
Anyway, they started with the professional wrestling career together as twins with skills. But now, they are facing a totally new mountain to climb. Namely, we all know that both pregnancy and being a mother are noting to joke about.
Therefore, if Nikki Bella takes her new role the same way she did with the WWE, she's certainly going to be a great mother.
Announcing was Easy
This stuff doesn't happen every day, and when it does, it's a reason to celebrate. Therefore, they both wanted to do something special with the way they announce the news.
Namely, they both took a picture with little baby clothes in their hands. And, that clearly sends a message what they are planning and what exactly happened.
Brie Bella wrote on her tweeter account:
"Never in a million years thought did I think @thenikkibella and I would be having pregnant bellies together!!!"
And, Nikki Bella immediately followed with an Instagram photo and caption that says:
"We are shocked like all of you!!!"
Luckily, we are able to see the baby ultrasound as she posted it on tweeter.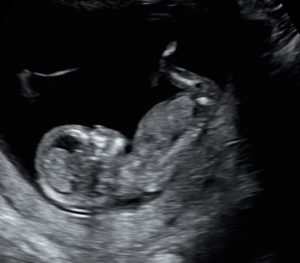 This is certainly a good day for both of them as they will try their best to become the most important thing in the world – Good Mothers.