The iPhone has a new app for Gmail users and it's called the Push Email App For Gmail.  Tiverias apps is now proud to introduce Gpush.
Gpush is an iPhone app for Gmail, and has apparently been a long awaited app for iPhone users.  You can get it for only $.99 in the App Store.
Here are some features that the new Gmail Push App for your iPhone delivers:
pop up notification of new message
preview of sender / subject
alert settings for new messages like vibrate or ring
displays for unread messages
Mashable also had a great write up about the new Gpush app for iPhones yesterday.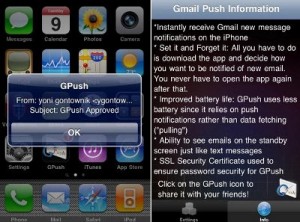 Let us know what you think about the new Gpush App with your comments below!