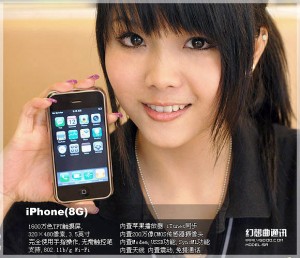 There's a replica iPhone in China called the 200 Fashion Mobile Phone, model number PG220.  You can actually go here and here and buy one.
Even though this phone is an immitation of the real iPhone, it's cost of only $99 will make it very appealing in China where the iPhone is expected to sell for $399 – $749.
The problem here is the impact the immitation iPhone will have on sales for Apple.  With such an inexpensive alternative, and a data phone that actually does things the iPhone doesn't has apps for, Apple could find it's bottom line being greatly impacted.
Here's some images of the replica iPhone that's selling for $99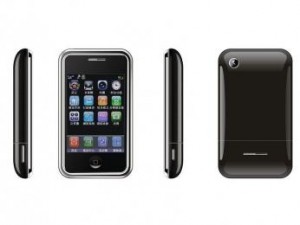 Here are the specs for the new replica iPhone:
Description
Dual Bluetooth 2.0
Handwriting input
Dual speakers + Can shake for next song & photo
FM Radio + E-booker reader
Caller picture, caller ring
Language: Version 1 — English/Chinese/Spanish
Version 2 — English/French/Spanish/Portuguese/Deutsch/Indonesian/Arabic (under updating)
2.8 inch touch screen
One T-Flash Card slot Supporting 1pcs up to 2GB
0.3 Mega pixel camera for Picture & Video capability, put out biggest size is 640*480
64 chord ring tone
MP3 & MP4 player
GPRS & WAP connectivity, MMS, EMS
U disk support function to keep the information storage
Calendar, To do list, Alarm, World Clock, Stopwatch
Telephone directories: support incoming call with big head sticker, can use downloaded MP3 as SMS rings.
Memory: 200 pcs for SMS, 100 pcs for MMS, 1000 pcs for phonebook
Schedule power on/off: support to start/close under set time and Alarm clock: support alarm clock set from Monday to Sunday
Games: 2 built-in common games
More information: MP3, MP4, Handsfree, SMS group sending, Voice recorder, WAP, Handwriting input, Bluetooth, GPRS download, MMS, EMS, Memory extended, Coming call firewall, IP dialing, Auto redial, Quick dial, self-designed ringtones, photo editor, alarm clock, calculator, Unit converter, Currency converter
In the 90/180 degree view, you can Rotate the LCD clockwise when you enjoy the video, and the LCD is plumb to the phone.
Phone weight: 100g (with Battery),
Color: Black
Battery: 3.7 V
Dimensions: 98.6 x 56.5 x 14.6 mm
Calling Time: approx 4 hours
Standby Time: approx 72 Hours
FCC ApprovedFeatures
Color: Black
Battery: 3.7 V 800 mAh li-on(2 pcs)
Dimensions: 98.6 x 56.5 x 14.6 mm
Calling Time: approx 4 hours
Standby Time: approx 72 Hours
Phone weight: 100g (with Battery)Package Contents
1 x Quad-band GSM Phone
2 x Batteries
1 x AC Adapter
1 x Charger
1 x Earphone for Music and Phone call
2 x USB cable for PC connection
1 x User Manual (English + Chinese)
1 x Giftbox
Quick Specs
| | |
| --- | --- |
| Color | Black |
| Type | Cell Phones |