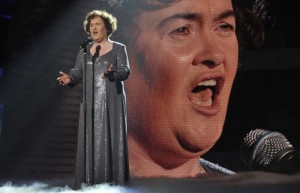 Susan Boyle Is Dominating You Tube!
The internet sensation that has swept the world – and Simon – with her voice is once again at the top in YouTube.  Susan Boyle's video now has over 1.1 million views since being uploaded on the 16th – 2 days ago!
As you remember, Susan Boyle was at the top before when she blew the world away with her amazing, yet unexpected singing.  This time, however, I love how time, and stardom, has apparently transformed her looks.
In my opion, Susan Boyle is looking totally different that she did about a year ago when she first came on stage.
Here's the Susan Boyle video that is dominating YouTube: