Increase Fan To Your Facebook Page
Want to dramatically increase the number of fans that join your Facebook Fan Page?  I know I called it a secret in the title, but it's really simple to do.
Create a landing tab that only non-fan visitors go to when they first visit your Facebook Fan Page!  Below is how to make that happen.
When it comes to Facebook Fan Pages, I don't believe it's a good idea to send everyone to your wall where your news stream is unfolding.  Fan Page walls can get messy, especially if you and your fans are uploading a lot of photos and videos.
For new visitors, those that are not yet fans of your Facebook Page, I recommend sending them to a tab designated as a call to action to join your fan page.  This is a custom tab created specifically as a landing page for new visitors, and if done properly, it will greatly increase the number of fans who join your page.
How To Create A Custom Landing Tab
First let me give you a real live example of what I'm talking about.  Click the link to one of my clients Facebook Fan Pages:
Notice where you landed when you visited the page.  It doesn't matter where or how you got to this Facebook Fan Page, if you're not a current fan, and logged into Facebook, then this is the tab you'll land on everytime.
Here's an image of what "non-fans" see when they visit the page: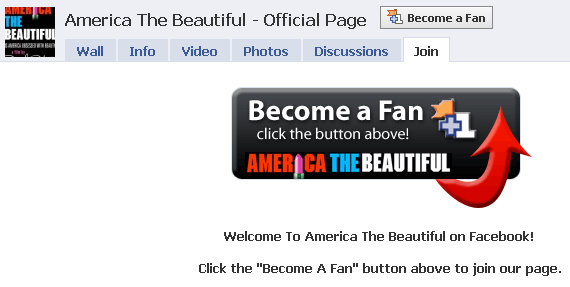 The value in having a custom landing tab for your Facebook Fan Page is that it quickly gets people to decide on taking an action.  Much like Google, a lot of Facebook Fan Pages are discovered through search.  And if people visit your Fan Page, more than likely they have some sort of interest in what your page is about.
Here's How To Do It:

1) You need to first install the FBML (Facebook Mark Up Language) application into your Facebook Fan Page.  Click this link, then add the FBML application to your Fan Page.  You'll see the link underneath the page image in the upper left hand corner.   Once you click "add to my page" a separate window should open where you'll see your Fan Page – select it.
2) Go back to your Facebook Fan Page and click "edit page" underneath your Fan Page image.  This will take you to your applications / page management dashboard.
3) Scroll down to "more application" and click the > click the pencil icon > select "browse more".
4) In the search box (upper left hand corner), type in "fbml" (no quotes).  You should see the FBML app page in the #1 result.  It's the one that looks like this:

5) Once you're on the FBML app page, click the "add to my page" link directly underneath the FBML page image / logo.  This will open a new box where you'll see a list of all the pages that you admin.
6) Now go back to your Facebook Fan Page > click "edit page" underneath your image > scroll down and you should now see the FBML app in your list of applications.
Now we are going to customize the FBML app so you have a landing tab for new visitors.
7) Click the pencil icon for the FBML app and select the "Applications Settings" links.  You should now be looking at this box: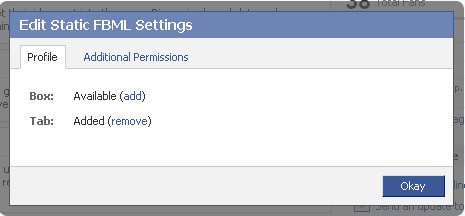 8. Make your settings so they are exactly as shown above – you only want to have "Tab" added and the "Box" should be left in the "available" status.  Clicking the "Available Permissions" is irrelevant for this purpose.
9) Once you've selected the "Tab" and it is showing "added", click "Okay"
10) Click the pencil icon again for the FBML app and this time select "Edit".  This will open up a text box where you're going to put your "Call To Action element".  This is also where you'll put a "Box Title" – whatever you put in this box title is what your tab will show in your Facebook Fan Page.
** NOTE: The page you go there here was done with a custom image design, which I strongly recommend.  If you'd like us to create one for you, call me at 706-363-0335.  We will create your custom image and I'll help you get everything set up as well…
11) Once you have your custom "call to action" message and the box title established, click "Save Changes"
12) Now all you need to do is go to your Facebook Fan Page wall, click the tab you just created, and drag it left or right to put it where you want it.  Notice on the example Facebook Fan Page I put the tab "Join" as the very last tab.
*** If you don't see the tab immediately when you go back to your fan page, click the right pointing arrows at the far right of your tabs.  This will drop down any additional page tabs you have and you should see it there.
I recommend that you have only as many tabs that will fit without having to click the arrows to see more tabs.  Your fans might not know how to access the tabs that are under that drop down.
And that's it!
If you have any questions, problems, or suggestions – or if you're using this method already and would like to show case your Facebook Fan Page – put them in the comments below.