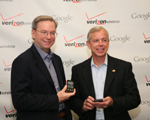 I sent out my first post this morning around 5 AM about the breaking news of Verizon and Google having a conference call to discuss a partnership with Android – Google's mobile phone operating system.
Then later in the day, prior to the 10AM conference call, I did an update to the story that said an agreement has been solidified between Google and Verizon.
And then again, a couple a hours later I wrote again about how word came out that Verizon would have 2 phones with Android OS on the market by the end of the year.
Finally, at 5:21PM, after a long day of tracking the story, we've got a photo of the Verizon / Android phone.  And it appears to be a version of the HTC Hero – at least that what it appears to be from the Verizon Wireless's press Web site.
And here it is – the photo we've all been waiting for, along with a photo of Eric Schmidt and Verizon CEO Lowell McAdam: