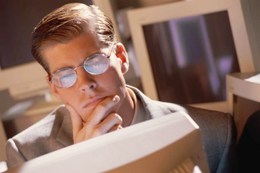 The amount of time people spent online is growing exponentially.
From social networking, to earning an living, the web is becoming the center-piece of most everyone's attention.
A recent survey conduct by ComScore showed that Microsoft commanded the most amount of people's time on the web during the month of September 2009.
ComScore Nov. 6 said some 27 billion hours were spent on the Internet by 1.2 billion worldwide Internet users in September 2009. Microsoft Web sites led the way, but 70 percent of the time spent on its sites was through Windows Live Messenger. Google came in at No. 2, with 9.3 percent of the minutes (2.5 billion hours). Yahoo was third with 6.3 percent of the minutes, or 1.7 billion hours, but dropped by 14 percent from its September 2008 share of almost 2 billion hours. Facebook nabbed the fourth spot, with 5 percent of the minutes, or 1.4 billion hours.
One surprising piece about this data is that Facebook is #4 behind Microsoft, Yahoo, and Google.
I think that as time passes, we will see Facebook move into a much higher ranking.
It doesn't seem inconceivable at all to see Facebook topping Yahoo in total time users spend online.  Back in March, 2009 we say Facebook grow 29% month over month, which represents nearly 200% annual growth.  Faceobok now claims to have over 300 million users.