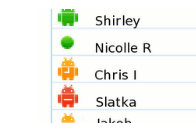 Gmail Chat Status Updates
Google has just announced a new update to their chat status icons!
These are the little green, orange, and red bubbles that you're accustomed to seeing in your chat status on Gmail, Google Apps, or in Google Talk.
Apparently (and I didn't know this), if someone is on their Android powered phones, and logged into their Gmail account, then they'll continually show a "green" bubble.
I think this is also the case for iPhone users. I have a friend with an iPhone 3GS and sometimes his chat indicator is green for 24 hours or more.  And clearly he isn't sitting as his computer that long!
This is misleading obviously because they aren't necessarily available for chat because they wouldn't know if someone was chatting with them (hey, I just had an idea for Gmail chat update – how about the option to turn on a sound indicator for your mobile phones???)
Anyway, to resolve this problem, Gmail has announced new chat indicators for Android phone users.
Here's the details from their blog post:
Gmail chat status (those green, orange, and red bubbles) indicates if your friends are online or not. But sometimes my buddies appear green when they're not really "online online" — they just have chat open on their Android phones.
Turn on Green Robot, a new experiment in Gmail Labs, and you'll see a robot icon next to people who are currently using Android phones. In the case below, Shirley is online with Android, Nicolle R. is using regular Gmail chat, and Chris I. is currently away but also on Android. Slatka is not an angry robot — she's online with Android but currently busy.
These icons can help you decide whether to tailor your conversation to the type of device that your chat buddy is using. For example, when you know the guy on the other end is using his Android phone, you may decide to send shorter, more concise chat messages.