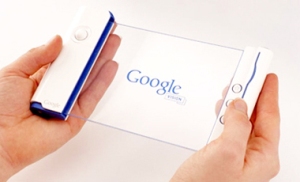 Get Ready For The Google Branded Phone
Let the battle rage on between AT&T and Verizon!
Google doesn't seem to care… in fact, it probably works out better that way for Google's Android OS brand (the operating system on the Verizon phones).
Despite the new "Droid Phones", and the battle unfolding between AT&T and Verizon, Google is apparently putting together their very own mobile phone.
TechCrunch updated the story yesterday about Google's very own branded mobile phone:
"Way more interesting are the rumors we've been hearing for months about a pure Google-branded phone. Most of our sources have unconfirmed information, which we describe below. But there are a few things we have absolutely confirmed: Google is building their own branded phone that they'll sell directly and through retailers. They were long planning to have the phone be available by the holidays, but it has now slipped to early 2010. The phone will be produced by a major phone manufacturer but will only have Google branding (Microsoft did the same thing with their first Zunes, which were built by Toshiba.)
There won't be any negotiation or compromise over the phone's design of features – Google is dictating every last piece of it. No splintering of the Android OS that makes some applications unusable. Like the iPhone for Apple, this phone will be Google's pure vision of what a phone should be."
Google Wants To Define The Mobile Market
It's really not enough for Google to have phones that are branded, sold, and serviced by other mobile phone companies like Verizon.
Google wants to have their own brand!
In fact, it's my belief that Google wants to redefine the mobile market and establish their technology as the foundation of all major mobile platforms.
The ambition of Google is something that has probably never been seen before in the history of businesses.
We can expect to see a Google branded phone sometime at the beginning of 2010.
And along with that, a mobile phone revolution that will be unlike anything we've ever experienced in technology up to this point.
The Google Android OS
You have to understand that Google's Android OS is not just a mobile phone.
It's an operating system that runs mobile phones.
Think of it as the Windows XP, or Windows 7 of mobile phones.
And because Android is an operating system that future mobile phones can run on, Google now has control over the foundation of how the users access the web, what features and apps are available, and most importantly how the mobile phone market is managed.
The Google branded phone is sure to compete with even their own Android operated phones.
But that is something Google sees as a good thing, and will pursue the ultimate ambition of controlling the mobile phone industry anyway.