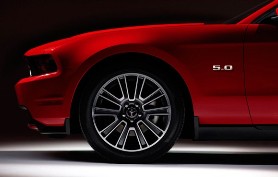 This wasn't suppose to happen, but an Ford insider announced via his Facebook and Twitter page that Ford would be releasing the famous Mustang 5.0 for 2011.
Autoblog writes: "Thanks to a loose-lipped Facebookian that couldn't help sharing insider information and a quick follow-up post from Inside Line, we can now confirm the return of the iconic 5.0-liter Mustang GT for 2011. Even better news is the fact that the Mustang GT's new mill will crank out an impressive 412 horsepower."
Social Media Strikes Again
It is clear that anything you put online is open to viral exposure.  Meaning, you could harmlessly update your Twitter profile, and then within just a few hours, the entire web can be buzzing about your update.
Likewise with your Facebook profile – say one thing that picks up steam with your friends, and they begin sharing it – then you could find yourself the next hot topic on Google Trends!