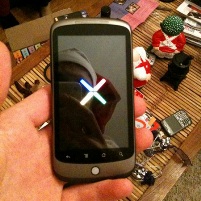 From the looks of it, tnkgrl.com got ahold of a Google Phone – better known as Nexus One – and has created a list of features (read it here).
One of the main features that immediately caught my attention was that a) the phone was jail-broken for use on AT&T, and b) the phone's Internet speed is only Edge (indicated by the "E" on the phone) and not 3G.
This is going to be huge point of discouragement if in fact, once the Google Phone Nexus One is released, there is only Edge speed and not 3G.
But on the other hand, if AT&T does carry the Nexus One, then Google has successfully gotten their Android OS into the 2 main phone carriers in the US – Verizon and AT&T.   T-Mobile is said to already be a partner for the Google Phone Nexus One.