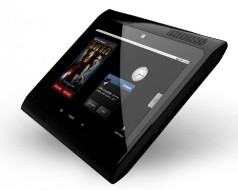 When Google created the Android Operating System, it obviously had ambitions far beyond mobile phones.
If it has a screen, then Google has the opportunity to give you (the user) the data you're wanting and searching for.
And now the Android OS has moved into the tablet market with The ICD Ultra.
See the Android device on Jimmy Fallon below:

The ICD Ultra has a 7-inch touchscreen, integrated 3G, WiFi b/g and Bluetooth 2.1, and like the Nokia Ink Smartpad, and it uses an NVIDIA Tegra T20 chipset giving it fast processing power.
The Ultra Android device is designed to be a mobile web browsing companion.  Measuring 186 x 158 x 18 mm it's reasonably compact, and ICD will be offering both resistive and capacitive touchscreen options running at either 800 x 480 or 1024 x 600.
The Android Tablet was covered recently on the Jimmy Fallon Show (video):