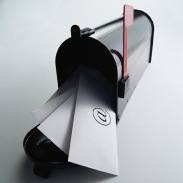 A Facebook Fan Page can dramatically increase your brand's awareness, reputation, and exposure in the market place.  And they just so happen to be one of the best, most efficient ways to communicate and collaborate with both customers and prospects.
However, in order for your Facebook Fan Page to be effective, you of course need a growing fan base!
Here's one simple way to dramatically increase fans on your Facebook Fan Page:
Using Your Email Signature Block
If you had to pick one piece of technology that you use constantly to communicate with people, my guess is that email would be at the top of your list.  Even with the rise of Twitter and Facebook, email (in my opinion) still dominates the communication platform.
And now think about all the people you communicate with via email – customers, co-workers, friends, prospects, etc…
Because you communicate with so many people via email, adding  a link to your email's signature block is a proven method to promote your Facebook Fan Page and to dramatically increase fans!
*** My recommendation ***
My recommendation is that you don't add your Facebook Fan Page to your email signature block until you've customized the URL of your Facebook Fan Page.
When you first create a Facebook Fan Page, the URL is long and undefined.  For example, a new Fan Page URL might look like this:  (facebook.com/pages/myfacebookfanpage.011238485-11239.?>89612)
This is long, undefined, and very unattractive from a marketing perspective.
However, once your Facebook Fan Page has 25 fans, you can then customize your Fan Page URL.
For example mine is:
Now that URL looks a whole lot better in an email signature block – wouldn't you agree?
So if your Facebook Fan Page has over 25 fans, read this article on how to customize the URL.
Then go ahead and add your new customized Facebook Fan Page URL to your signature block and watch your fans increase automatically!