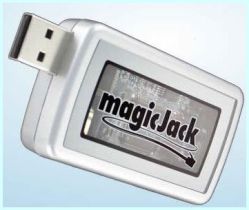 At the CES 2010 conference this year, there were a lot of tech giants trying to steal the lime light.  Google's Nexus One phone was one of them – and I'd say they did a pretty good job of capturing a lot of attention.
But perhaps one of the most controversial (and thus, popular) tech companies on the scene was MagicJack.  And they decided to stir up the cell phone industry with a piece of technology called "femtocell".  This basically allows you to make calls from your mobile phone absolutely free!
MagicJack Stirs Up The Cell Phone Industry
MagicJack founder Dan Borislow made the announcement this week at the CES conference.  MagicJack is set to extend its no-monthly bill phone service to mobile users.
Here's more from About.com tech blogger, Nadeem Unuth:
The existing small jack will be replaced by another small device that will play the role of a miniature GSM base station at home, technically called a femtocell.  This femtocell will connect to the user's computer and use its Internet connection to route the calls. Then any cell phone that works with GSM (that's nearly all mobile phones) can be used to make calls through the MagicJack femtocell, and for free, within the house, which can be as big as 3000 square feet.
The Cell Phone Industry Will Surely Cry Foul
When I told my wife about this story, the very first thing she said was "Is that legal?"
It almost begs the question of legality.
However, MagicJack doesn't seem to care, or they know of a loophole that us average folk don't know about.
Whatever the case may be, the world of cell phones is moving closer to the world of the web.  And with that paradigm shifting taking place, I don't think we are too far off from having free cell phone calls being made from an internet connection – regardless of where we are in the world.