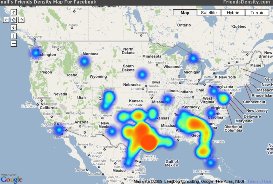 I was posting a comment on one of my friend's walls in Facebook, and I noticed out the corner of my eye a map with some weird colors on it.
So I looked a little bit closer and saw that it was a map of the United States with heat density ring showing.   And a little bit of a closer look showed me that it was a density map of your friends on Facebook!
The Friends Density Map for Facebook shows you, by heat density, the concentration of your Facebook friends on a map.
Wow…. that is a pretty cool little app!  So I went ahead and clicked on it and discovered that the heat density map will show you concentrations of friends anywhere in the world.
Here's a full size image of my Facebook friend's "Friends Density Map":