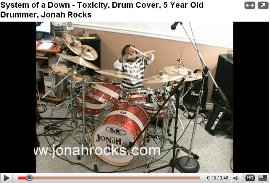 Mashable had an article today that featured a 5 year old (he's 4 in some of the videos below) playing System of the Down's "Toxicity" song.
At first, I thought it was a joke because I'm familiar with that song and I know that the drummer is amazing in System of the Down.  But after watching the video I couldn't believe it.
Then I had to visit this kids site, and I found videos of him when he was 4 years old playing Rush, Metallica, and Blink 182.  So I decided to show 5 videos of this kid so that you can see what's it's like to be a prodigy child at the drums!
You can visit his site at JonahRocks.com – **WARNING** Make sure your speakers are turned down because his music will blast you as soon as you open his site!
The first one is Toxicity by System of the Down:
Blink 182 – All The Small Things, Live Drum Cover Solo, 4 Year old Drummer
Metallica – Harvester of Sorrow, Drum Cover, 4 Year Old Drummer
The embed code has been disabled but you need to check him out playing some Metallica – click the link below:
https://www.youtube.com/watch?v=7CKf0vmPC9s
Green Day – Know Your Enemy, Live, Drum Cover, 5 Year Old Drummer