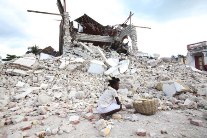 A 15 day old infant was discovered alive, and rescued, after going 8 days without food or water in a collapsed home, according to BettyConfidential.com
Literally half of the babies life was spent under a crumbled house in Haiti.
Here's more from BC:
In a true miracle, rescuers discovered a 15-day-old baby alive in the rubble of her home a full week after the earthquake in Haiti destroyed the house.
Her mother, 22-year-old Michelene Joassaint, said she had put baby Elisabeth down for a nap on the second floor of her house and was on the first floor when the quake struck. She tried to get upstairs but had to flee the house as it fell around her. Joassaint was sure her daughter has perished in the disaster, but the search and rescue team sent to demolish the remains of the house found the baby alive, in her bed that had fallen from the second floor to the first.
"It was the mercy of God," said Joassaint, who was staying in a homeless camp  on a soccer field when she learned the news. "I cried and then ran to the baby."
There have been many dramatic rescues in Haiti, both by official search and rescue teams and by everyday citizens working to free their fellow people.
"The search and rescue has been a fantastic success this time," said Sir John Holmes, the United Nations Under-Secretary-General for Humanitarian Affairs and Emergency Relief Coordinator. "They've pulled out more people than is normally the case."