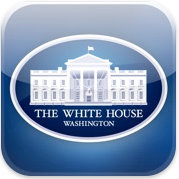 The White House has just released a new iPhone App
One thing I will say about President Barack Obama, he is certainly hip on the latest in technology and social media.  I mean, his entire presidency was almost exclusively funded from social media marketing efforts.  And today, The White House flexes their technology muscles again with a new iPhone App.
If I had to guess, The White House wanted to make as many people as possible could view next Wednesday's State of the Union speech.
But aside from that, you can now get up to the minute information from the Obama Administration.  You will get the latest news from the White House blog and the newsroom, featured videos and photos, and live video streaming of White House events with President Barack Obama.
The White House iPhone App (free) >> click here (opens iTunes)
Here are some images for you: