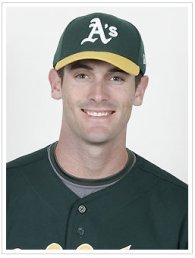 A Life Serving God
Grant Desme, a 23-year-old minor league outfielder in the Oakland A's minor league system, is retiring from baseball to follow what he believes is God's calling on his life, and that is to serve in the Catholic priesthood.
It's not everyday you see this level of commitment to do what God has called you to do, or what God has put in heart and soul to pursue.
Passing up certain riches in Major League Baseball to pursue a life committed to God, and doing God's will is certainly – in my honest opinion anyway – an unprecedented and admirable decision in this day and age in which we live.
According to Yahoo Sports, Desme said on a Friday afternoon conference call:
"I'm doing well in baseball. But I had to get down to the bottom of things, to what was good in my life, what I wanted to do with my life. Baseball is a good thing, but that felt selfish of me when I felt that God was calling me more. It took awhile to trust that and open up to it and aim full steam toward him … I love the game, but I'm going to aspire to higher things."