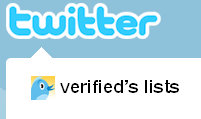 Twitter has done the heavy lifting for you by compiling an official, verified list of Olympians who use Twitter.  The verified Twitter list list can be found @verified/olympians, and consist of 100 Winter Olympic athletes who tweet!  So if you're interested in following the most popular athletes on Twitter, you can join the already 700 followers that are tuning in for tweets from the Olympians.
Twitter is always hard at work creating verified Twitter lists. Twitter has compiled verified lists for all types of sports, entertainment, charities, and even a verified list of verified accounts!
You can check out all of the Twitter verified lists here.