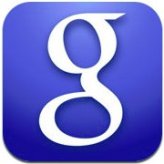 Google is looking to expand it's influence beyond just mobile phones.  In line with their goal of accessing data on every known device in the world, Google has just submitted a new version (iTunes link) of their Google Mobile App to Apple for approval for use on iPods – 2G or newer only.
Google Mobile App will now allow iPod owners the ability to conduct voice search, local and regional searches, and experience Google as a whole, right from their iPod.
The new Google Mobile App will only work on 2nd generation iPod's or newer.