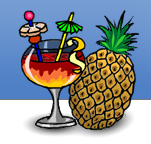 Apple is a company that doesn't like to get involved in copyright infringement issues.  That is why when you visit an Apple retail store they will not tell you how to record content for their devices. But there are many software choices that can be used to copy DVDs.
This post will detail two software choices that can be used to copy most DVDs.
Handbrake
Handbrake is an open source (free), GPL-licensed, multiplatform, multithreaded video transcoder available for MAC OS X, Linux, and Windows. This is my program of choice for recording DVD movies.
The Handbrake program is very simple to operate and is great for recording movies. The Handbrake software has many predefined formats that make recording for your favorite playback devices.
I am an Apple person and I record in the Universal Apple format so I can make one recording and play it back on my iPod, iPhone, and Apple TV. Prior to this current update of Handbrake I had to record two versions, one for the iPod and one for the Apple TV. The recording quality of Handbrake is near HD.
Handbrake can be downloaded at http://handbrake.fr/
The problem with Handbrake is it looks for the largest file on a DVD in order to determine which file to encode. With this fact in mind, it is very difficult to record DVDs that have more than one episode.
Cucusoft
Because I enjoy my television series, I have used a Windows-based program called Cucusoft.
This program operates much like a DVD player and it is very easy to record all the separate episodes of a television series. Cucusoft DVD to Apple TV Convertor can be purchased from their website www.cucusoft.com.
Cucusoft is only available for PC and that is why I keep a Windows XP machine (and the only reason).
In my two years of recording DVDs that I own I have only come across less than 5 DVDs I could not record into an Apple TV format. For these rare DVDs I just purchase those movies from iTunes. I have accumulated an Apple TV library of over 1000 movies and almost every complete series of my favorite TV shows.
These movies and shows are now available for me to watch at any time by streaming them to my TV from my Apple TVs. And the best part—no commercials.
Article Written By,
Robert Thompson
President, Avant-Garde Education
www.hhtrain.com