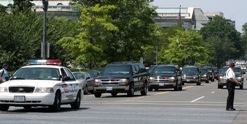 There was a near miss incident where a 15 year old boy was about to be killed by the Secret Service.  Apparently the presidential motorcade with Barack Obama was traveling down the road when on the side of the road, a 15 year old boy was pointing a gun at the President's vehicle.
The secret service agent who saw this pulled out his gun, and was about to open fire on the boy when just before he pulled the trigger, he noticed the gun was actually red, and appeared to be more of toy than an actual gun.
The 15 year old was mulled to the ground by the Secret Service and come to find out, it was a water gun and not an actual weapon.
I just heard this breaking news on the radio and I'm still trying to find more details on the web, but nothing has been published yet.
Let me know if you have any more info about when this happened, where it was, etc…