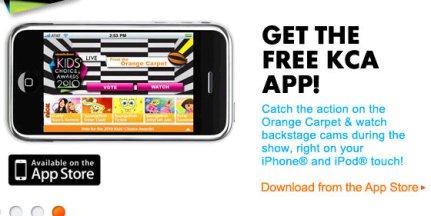 Kids Choice Awards iPhone App
What is great about technology today is that we have choices.  We can chose where to watch live web casts, where to view online videos, and in what way we receive content from our favorite websites.  This is becoming true also of how you, as a fan and viewer, watch and engage with your favorite TV shows.
Get the Kids Choice Awards 2010 iPhone App
This years Kids Choice Awards on Nickelodean will be no different when it comes to people having a choice in how to watch it, and interact with it.
Introducing the 2010 Kids Choice Awards iPhone App.
The KCA 2010 iPhone App will not only allow people to watch the event live on their iPhone, but the app lets viewers vote, comment, and interact with the Kids Choice Awards as it is unfolding.
Of course, TV will be the dominant place people view the Kids Choice Awards, but you cannot count out the iPhone App.
I know that my kids have been placing their vote for the 2010 Kids Choice Awards for the past week or so from the iPhone App.