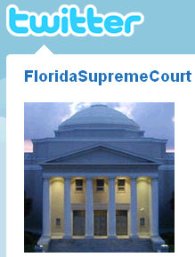 The Florida Supreme Court has made an unprecedented decision from the bench today – they decided to join Twitter!
The Florida Supreme Court made a decision today that might go down in history as the most unique of its kind.
Florida's high court decided to join Twitter and create it's very own Twitter profile!
Not only did that create their own Twitter profile, but they took it one step further and created their own hashtag:
Here is what Florida Supreme Court public information officer Craig Waters said about the decision to join Twitter:
"While the website will remain the court's primary vehicle for pushing Supreme Court documents out to the world, the Twitter account is expected to greatly increase the reach and speed of notifications that those documents are available…"
Florida's Supreme Court has always made efforts to be at the forefront of technology and integration. They were among the first in the nation to use the Internet, posting some documents online in 1994. By 1996, it was releasing its weekly rulings on its Web site, while maintaining its dockets and providing access to filings, according  to News-Press.com.