SlickDeals.net – SlickDeals Free User Generated Bargain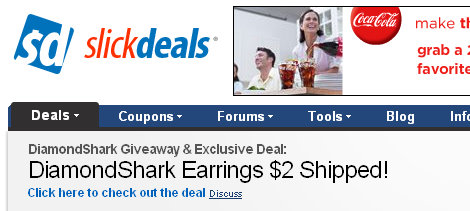 Slick Deals is in the news today and exactly what has propelled them to the forefront I'm still not quite sure.
Perhaps it's the Tweezer deal they have where they are selling a pair of Tweezers for $.39 cents and will ship them for free – Red Gecko rates that deal as a fail.
Here's more about SlickDeals.net from their website:
Founded in 1999, Slickdeals.net is a free, user-driven deal sharing site with a mission to provide consumers an avenue to collaborate and share information in order to make the best shopping decisions. Slickdeals achieves this by providing its users a forum for communication and various shopping tools. Slickdeals.net prides itself on being user and community focused, never allowing paid placement for frontpage deal listings.
Check out Slick Deals on the web today.