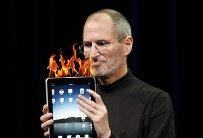 iPad 3G Release Date Confirmed By Steve Jobs via Email?
In response to a European customer who was complaining about the shipment of the iPad, Steve Jobs may have let the cat out the bag about the iPad 3g release date.
The Mac blog 9to5 Mac has reported that a disgruntled customer from Europe sent an email to Steve Jobs complaining about the delay of iPads to European countries and asked Steve Jobs about the iPad shipment date.
And then in a second email, the customer said, "Will there also be 3G models of the iPad released worldwide on the end of may or only the Wi-Fi models? Would be nice to know. Can't wait."
And Steve Job's reply was, "Both models will be released at the end of May. Sorry for the delay."
Both models (iPad and iPad 3G) will be released at the end of May.
The only question that arises here is whether or not the end of May for the iPad 3G means international shipments (outside of the United States), or worldwide – meaning, can the United States not expect an iPad 3G until the end of May.
So if Steve Jobs is willing to let this information go via emails to future customers, then what exactly are we going to here when Apple takes the stage in San Francisco for another announcement on June 22nd?