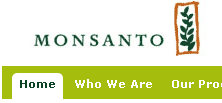 NYSE:MON – Monsanto Might Be A Buy
Based on current pricing, Monsanto (NYSE:MON) might be a buy.
Out of the gate on Monday, investors boosted volume in Monsanto Co. (NYSE: MON) front-month puts following news that the agriculture company plans to accelerate its $800 million share repurchase program.
It appears that investors are reading the company's share repurchase announcement as a good thing, as the stock is currently up $1.59, or more than 2%, to $66.32. MON has not announced its next earnings release date, but the market anticipates the report around June 24.
Read more at ONN.tv