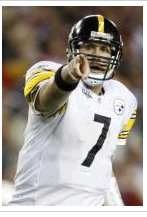 Ben Roethlisberger Trade Rumors, Still Just Rumors
The Rooney family, owners of the Pittsburgh Steelers, are still uncertain as to whether or not trading their all star quarterback is the best thing to do under the current circumstances.
Ben Roethlisberger has certainly brought some seriously bad publicity to the city of Pittsburgh. And based on reports and rumors still coming up out of Milledgeville, Georgia, the bad publicity might go away any time soon.
Ben Roethlisberger has been accused of sexual assault, and many witnesses have confirmed that the victim was adamant about telling Roethlisberger "no" – however, according to reports, he proceeded anyway.
All of this publicity is hammering the Steelers' franchise, and that brings us back to the trade rumors surrounding Roethlisberger.
There were rumors today about the Oakland Raiders interested in Ben Roethlisberger, but nothing solid has been confirmed at this point.
Certainly, we will see more information hit the web as it comes available.
And ultimately, we are all just waiting for the Rooney family to decide on Roethlisberger's fate in Pittsburgh.