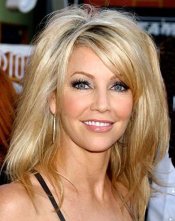 Heather Locklear Arrested for Hit and Run
Even if you're a Hollywood movie star, you still cannot get away with a hit and run incident – as Heather Locklear has found out the hard way.
Heather Locklear was arrested for a 4 AM hit-and-run accident on Saturday at an intersection near her Westlake Village gated community, Access Hollywood has confirmed.
According to the Ventura County Sheriff's department, the "Melrose Place" star's black BMW matched debris from a knocked-over "No Parking" sign through an investigation. No further details were available.
However, the incident was not reported until 7:48 PM on Saturday. According to authorities, a resident noticed the sign the next day after hearing the crash the night before.
Read more at Access Hollywood