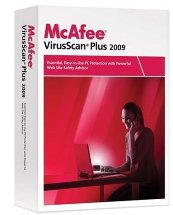 Mcafee Anti Virus Update Failure Exposes Windows XP
McAfee's Anti Virus software program went down today (Wednesday), which caused Windows XP computers to experience networking and reboot errors.
My guess is that the 'dcom server process launcher terminated unexpectedly' error was also directly related to the Mcafee Anti Virus break down.
According to CNET, early reports attributed the widespread problems to a routine McAfee update that caused computers with Microsoft's Service Pack 3 installed to incorrectly identify a legitimate operating system component as containing a virus.
A McAfee representative confirmed the problem to CNET, and said the buggy update code had been removed from the company's servers and that a fixed version would be made available shortly.
"McAfee is aware that a number of customers have incurred a false-positive error due to incorrect malware alerts on Wednesday, April 21. The problem occurs with the 5958 virus definition file (DAT) that was released on April 21" at 6 a.m. PT, the company said in a statement.
A report at the Internet Storm Center said the McAfee update registered a false positive and flagged the Windows file svchost.exe as a virus.