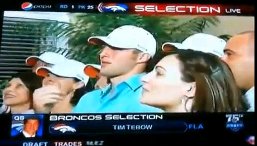 Tim Tebow, Denver Broncos Draft Announcement (Video)
Last night during the 2010 NFL Draft, Tim Tebow stole the show.
Despite Tim Tebow not showing up in the Green Room in New York City, and instead staying with his family and friends in Jacksonville, Florida, the media had no problem catching up with him and making him very much a part of the NFL draft.
Tim Tebow was drafted in the first round at #25, and the Denver Broncos were the team who decided to bring on the all star quarterback out of Florida.
Denver Broncos head coach Josh McDaniels has been doing some cleaning up within the ranks of the Denver Broncos. Jay Cutler was cut loose from the team because of problems, and now McDaniels is ready to bring in a new form of leadership at the quarterback position.
Here is Tim Tebow being drafted by the Denver Broncos
During the off season, there has been a lot of speculation that Tim Tebow was not NFL material. There was criticism circulating about his throwing arm being too low, and how he just wasn't ready for the NFL.
A lot of criticism was also geared toward how people believed that in Florida, the receivers were always open, but in the NFL, none of the receivers are going to be open. And due to Tim Tebow's throwing deficiencies, this was going to impact his ability to make completions.
However, in Florida, Tim Tebow ended up with 9,285 passing yards which is 4th in the school's history.
There is no question that Tim Tebow is not only ready for the NFL, but that he will thrive and prosper as an NFL quarterback.