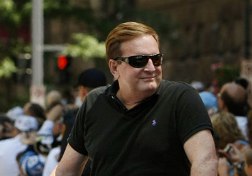 Ron Burkle Donates $50,000 To Celebrity Apprentice
During last night's Celebrity Apprentice, team project manager Holly Robinson Peete was working the phones trying to raise enough money to beat out the opposition.
With only seconds to spare in the competition, Ron Burkle decided to step in, step up, and make a massive donation in the amount of $50,000 to Holly Robinson Peete's team.
The team was in fund raising mode to create a fitness class for 24 Hour Fitness, and the $50,000 donation allowed Peete's team to raise over $200,000.
Ron Burkle is a self made billionaire who owns a firm called the Yucaipa group of Companies. Mr. Burkle is often the central focus of many gossip columns and political donation scandal discussions.
Regardless of the negative publicity that seems to follow Ron Burkle, there is no question about his business tenacity and ability to generate revenue.
So the $50,000 donation from Ron Burkle certainly was nothing for the billionaire to contribute, but it made all the difference in the world to the Celebrity Apprentice team that was trying to raise the money.