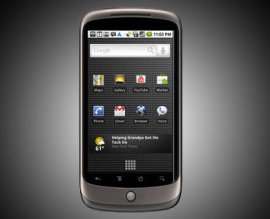 NASDAQ:GOOG: Google Focusing More On Android, Less on Nexus One
Google (NASDAQ:GOOG) shares trading at 529.29, +0.23 (0.04%)
The move by Verizon to not sell Google's Nexus One phone is not something that I believe took Google by surprise.In fact, if I had to wager on the decision, Google more than likely had as much influence on the decision as Verizon did. I know the headlines read "Verizon Ejects Google Nexus One Phone" – but those are just media headlines. I believe there is a lot more at work here.
Google's Trouble With Nexus One
Google figured that with the Nexus One, they could somehow add more saturation of their Android OS into the mobile phone market space. After all, more Android powered devices, the more market share Google commands, right?
In the short term, yes – but in the long term, it will actually start to hurt Google's business model and in fact work adversely against Google, thus decreasing the Android OS market share.
Here's why…
Google learned a valuable lesson when it launched their Nexus One phone. They learned that they just cannot handle, and did not foresee perhaps, the customer support demand that was going to be required of them upon the Nexus One getting into the hands of customers.
No sooner did people turn on their Nexus One devices and suddenly all sorts of problems started to arise – 3G was not stable, software was not booting up properly, apps were not working properly, and so on… And the fall out came when masses of customers needed customer support for help with their issues.
But there wasn't any real Nexus One customer support available. People had to submit an email, and then within 48 hours (2 days) they would hear back from someone. Typically the response was very short, very non-specific, and very non-personable. Ultimately, customers weren't getting support and so they turned to forums to start hammering Google on the Nexus One phone.
Google Needs To Focus on Android
I think that Google realizes that in the long run, the best way to increase Android OS market share is to focus on what they do best and that is developing, improvising, and optimizing Android.
This happens in a lot of different ways – encouraging app development, working with both hardware and phone developers to mobile phone carriers, and supporting open source.
What Google doesn't need to do is try to be a mobile phone carrier or mobile phone manufacturer. And by trying to be something they are not in turn will create an ocean of angry, dissatisfied customers that will ultimately start working against Google's reputation, and in having an adverse affect on the Android OS market share.
Google Probably Encouraged Verizon's Decision
I believe that Google more than likely encouraged Verizon's decision because they new that once Verizon started selling the Nexus One, then the whole customer service train wreck would be starting all over again.
So instead, even before Verizon announced that they will not be selling the Nexus One phone, Google was already encouraging people to buy the HTC Droid Incredible which is now available for pre-order.
So ultimately, Google is positioning themselves build upon their strengths and ejecting from the their weak points in the market place.
Verizon deciding to not sell the Nexus One was, in my opinion, more of a by product of Google's decision making and less of Verizon's influence overall.