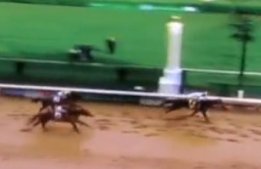 Watch the 136th Kentucky Derby Race Below (Video)
Kentucky Derby 2010 Results, Winner, The Dream Bet, & Payouts
Today marked the 136th annual grand-daddy horse race of them all – The Kentucky Derby. It was a partly sunny day at Churchill Downs, but due to the rain received the previously night, it was a wet, sloppy track indeed.
Nonetheless, the horses took their positions and the 136th annual Kentucky Derby was off to the races.
2010 Kentucky Derby Winner:
The winner of this year's Kentucky Derby was Super Saver riding out of gate 4, with Jockey Calvin Borel, and owner Todd Pletcher.
2010 Kentucky Derby Results:
Kentucky Derby Results/are as followed:
4. Super Saver $18.80, $8.80, $6.00
2. Ice Box $11.20, $8.00
10. Paddy O' Prado $7.40
9. Make Music For Me
3. Noble's Promise
1. Lookin At Lucky
17. Dublin
6. Simply Victor
14. Mission Impazible
11. Devil May Care (filly)
7. American Lion
13. Jackson Bend
15. Discreetly Mine
8. Dean's Kitten
12. Conveyance
19. Homeboykris
20. Sidney's Candy
5. Line of David
16. Awesome Act
18. Backtalk
Kentucky Derby Dream Bet
The Kentucky Derby dream bet winner has only one person to thank this year for his payoff and that is the horse Super Saver and jockey Calvin Borel.
Horse racing fan  and enthusiast Glen Fullerton, a resident from Texas, ended up winning the Kentucky Derby Dream Bet.
Fullerton won a Churchill Downs sponsored prize to travel down to the 2010 Kentucky Derby and actually place a $100,000 bet on who he thought would be the Kentucky Derby 2010 winner.  Fullerton put his contest money on Super Saver, whose odds were 8-1 second choice.
When Calvin Borel guided Super Saver in for the win, the Kentucky Derby dream bet paid off. The 40-year-old Fullerton raked in $900,000.  NBC Sports reports that Fullerton chose Super Saver because of Calvin Borel, who had won two of the last three Derbys.
Kentucky Derby Payouts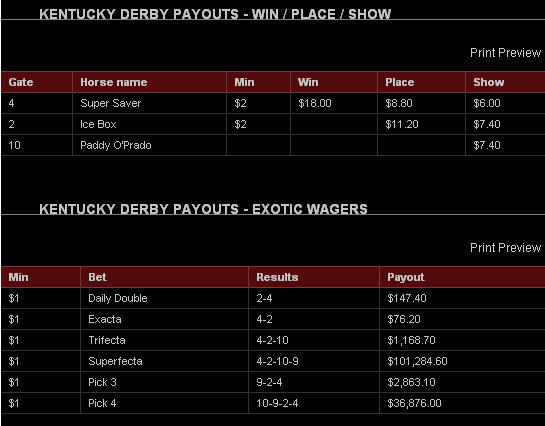 2010 Kentucky Derby Race – The Complete Video