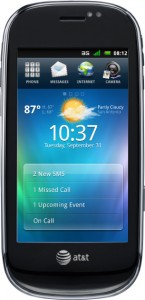 If any of you have the Motorola Backflip you probably have noticed that AT&T has taken out all of the main Google Apps.
Well that won't be the case with the Dell Aero, AT&T has put up a sign up page for the Dell Aero listing some of the handsets tech specs. The page states that the Dell Aero will have a 5.0-megapixel camera, 3.5 nHD display, support for Flash lite & GPS.
The Dell Aero will have the Google Apps that are found on all the other Android handsets such as the Android Market place, You Tube, Google Maps, Google Talk, Gmail & Google search. If you want to sign up for more announcements for the availability of the Dell Aero please go the source link below.
Source: Dell Aero
Josh Uhlemeyer
Former Author of Mobile News Now