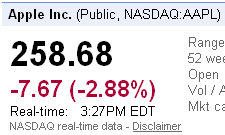 NASDAQ:AAPL – As The Market Goes, So Goes Apple Shares
Some people might argue with me that Apple (NASDAQ:AAPL) stock prices are immune to fluctuations on the overall market (NASDAQ). This argument stems from the  fact that Apple stock prices have recently hit all time highs, and also that Apple (Steve Jobs) has promised more amazing product releases – even beyond the iPad.
However, today will prove this assumption – that Apple stock prices are exempt from market fluctuations – false.
All of the major indexes are down currently – here's where they're at:

Notice the bottom line is Apple (AAPL) – also down 3%.
So as you can see, and for those of you who believe that Apple stock prices are immune to the market, your theory just doesn't hold.
Upcoming Apple News
Some of the more prominent events coming up for Apple are:
WWDC2010 (Apple's developers conference) on June 7th
Rumors that iPhone 4G will be announced at WWDC
Also rumors that Apple will expand iPhone to other mobile phone carriers like Verizon.
Although the iPhone and mobile phone carrier expansion rumors are just that – rumors, it does seem logical especially since Steve Jobs has been quotes as saying that Apple has some amazing product launches coming in the near future – beyond just the iPad.
So what do you think?
Do you think that Apple stock prices are immune from overall market fluctuations?