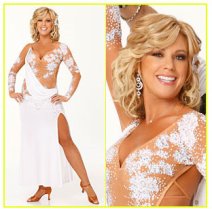 Dancing With The Stars Ratings Plummet, Kate Gosselin Impact
Huffington Post is reporting that the ABC TV show Dancing With The Stars continues to struggle with their ratings in the post-Kate era.
Dancing With The Stars has logged its lowest rating performance of the entire season.
ABC's "Dancing With the Stars" dropped another 9 percent to a 4.0/11 in 18-49s, its lowest total of the season. Since Kate Gosselin exited two weeks ago, the show is down a full 17 percent. Still, averaging 19.4 million viewers, "Dancing" led ABC to a win in total audience for the night.
So what does this mean for Dancing With The Stars, and what does this say about TV viewers?
It seems like TV viewers are more inclined to watch people who are not celebrities – although Kate Gosselin could possibly now be considered a celebrity.
But viewers seem to be more attracted to people who have a real story behind them – no matter how bizarre the story might be.
Kate Gosselin got eliminated from Dancing With The Stars back on April 20th, and ever since that day, the ABC TV show has continued a downward spiral that ultimately resulted in the lowest ratings of the season last night.
What do you think?
So do you think TV viewers would rather watch real, non-celebrity status, individuals on TV shows instead of high profile celebrities?
Is Kate Gosselin really that much in demand to have such a huge impact on the ratings of Dancing With The Stars?