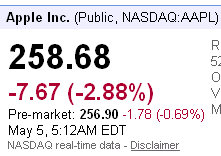 NASDAQ:AAPL – Is Apple Stock The Driving Force of the NASDAQ?
Even though Apple (NASDAQ:AAPL) closed down yesterday nearly 3% (2.88% @ $258.68), so did the entire NASDAQ index (NASDAQ closed down -2.98% @ $2,424.25). I wrote yesterday about the question of whether or not Apple is immune to NASDAQ fluctuations. I actually stated it as as the NASDAQ goes so goes Apple.
There were a lot of interesting comments in that post, some nice and others… well… but anyway, the overall consensus might actually be that I was looking at the question entirely backwards.
Perhaps the question isn't is Apple subject to the NASDAQ fluctuations, instead the correct question may be is the NASDAQ subject to Apple share fluctuations?
Some people believe that Apple shares are the driving force behind the NASDAQ. This makes sense to me from the standpoint that so many other companies on the NASDAQ rely on Apple as a source of business. So if Apple shares are declining or losing momentum, wouldn't it make sense that all of the companies that rely on Apple go with them?
One comment brought up from yesterday's article was that Apple shares may have been down 3% due to the news that Apple may be investigated for anit-trust laws regarding their licensing agreement with Iphone App developers.
From that perspective, perhaps its true that the NASDAQ is more subject to the fluctuations of Apple, rather than Apple being subject to the NASDAQ.
What do you think?
Is it more accurate to say that as Apple goes, so goes the NASDAQ?