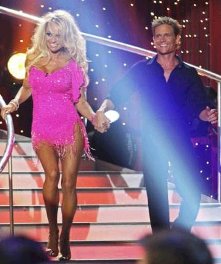 Pamela Anderson, Dancing With The Stars Elimination May 4
Last night's Dancing With The Stars pool of celebrities got shorter by one person, and unfortunately it was Pamela Anderson that was eliminated from the show.
During last night's Dancing With The Stars episode, the contestants were split into two teams for the cha cha challenge. Team Gaga, which Pamela Anderson was part of, also consisted of Micole Scherzinger and Cincinnati Bengals wide receiver star Chad Ochocinco.
The other team was Team Madonna, and that team consisted of Evan Lysacek, Niecy Nash and Erin Andrews. And although Team Madonna scored well in their routine, they (Team Madonna) were not able to overcome the performance of Team Gaga.
So Team Gaga was able to take the championship last night, but apparently it wasn't enough to prevent Pamela Anderson from being singled out and eliminated from Dancing With The Stars.
Even Lysacek and his partner Anna Trebunskaya were able to bring home the top score this week, with a perfect score of 30. They also received a standing ovation after they had completed their number. Their number was a powerful, briskly paced tango that had taken the judges by surprise.
Chad Ochocinco is scheduled to head to pre-season football camp this summer. But for now, throughout the spring, he is enjoying his time on Dancing With The Stars and trying to leverage this to help keep him shape during the NFL off season.